Are you looking for tips regarding how to wrap a sprained ankle? Well, if your ankle has been sprained then instead of wrapping it with a bandage, we suggest you get an ankle brace for yourself.
What is an ankle brace?
When it comes to running and body movement, your ankle is the most vital and crucial joint of your body. It is vulnerable to many kinds of injuries because of running or playing games that involve hard feet movement.
This is where an ankle brace for running comes into play.
An ankle brace is usually a garment, stretchable or adjustable, that is worn around the ankle to protect your ankle while mobilization and it also helps in healing ankle sprains along with preventing you from getting any further ankle injuries.
An ankle brace or sleeve provides you maximum ankle support for running and also makes sure your overused muscles get the relief they need in order to heal properly and completely.
Some people do not understand the importance and benefits of ankle braces and continue their daily life without paying proper attention to their ankle injury. Running on a sprained ankle isn't wise. It will not let you heal completely, cause trouble and make your motion dreadful if the injury grows.
You can also say that an ankle brace is like a walking boot for sprained ankle. It doesn't cause any discomfort and you can continue doing all the things you were doing before with much more ease.
Types of Ankle Braces
Before we move ahead and tell you all about the tips you need in order to buy the best ankle brace for yourself, let's take a look at the types of ankle braces that can be suitable for you.
1. Soft ankle brace or Mild ankle braces
The mild ankle braces are usually made up of an elastic material, generally neoprene, and it is used to give mild support to the ankle and provide warmth to the muscles. This usually helps athletics during games so their ankles do not stiffen up while playing.
Mild ankle braces are commonly used for swelling or very minor injuries and are quite reasonable in pricing.
2. Semi-rigid braces or Medium support ankle brace
You can break semi-rigid braces into two types, lace-ups and hinged braces
Lace-ups
The lace-up styled braces have usually been recommended by most of the healthcare professionals due to their mild support. You can also call these braces as a custom ankle brace because it allows you to adjust the fitting according to your need.
Lace-up are also used among the athletes most commonly and are also an ideal football ankle brace. These are made up of strong fabric and you can lace it up like a shoe. The lace-up braces come with an extra fitting on the sides of lateral support and also feature Velcro straps for a customizable fit.
These are lightweight ankle braces and the athletes can easily fit them inside their shoes.
Hinged braces
These are the latest style introduced in the semi-rigid domain and they provide moderate support to the user. The hinged braces allow the ankle to move up and down but prevent it from rolling from side to side. They also feature extra padding for added comfort.
The hinged brace is the  best ankle brace for basketball because they prevent the player for spraining his ankle on jump shots. The player can also get these hinged braces custom made for a more accurate fit.
Rigid braces or Maximum support ankle braces
These are the kind of stirred-up braces that feature hard plastic sides and come with extra padding for maximum comfort. These are not meant for playing sports and are usually used as post-injury ankle braces.
They provide the best ankle support and help in healing effectively. These braces will not fit in the shoes so once the player has been healed completely, he will have to get a moderate ankle brace for sports. They are also the best ankle braces for sprain. You will not find accurate fitting for these ankle braces if you do not have correct measurements. So, before you buy them, ensure that you have correct measurements of your foot in order to not regret your choice later.
How to choose the best ankle brace for yourself?
After reading the above mentioned types, we are sure that you must be having  hundreds of questions in your mind such as how to put on an ankle brace or how to wrap a sprained foot or is my ankle broken for real that's why you need an ankle brace?
First of all, putting an ankle brace is easy, secondly, if you buy an ankle brace you will not need to wrap your sprained foot with bandage and third, no, your ankle isn't broken.
Ankle brace is required to heal injuries that you have attained while playing your heart out in the field. There are hundreds of brands in the market and you will never know the kind of ankle brace you will end up with if you do not know what you're looking for.
So, in order to address all those questions in your mind regarding what to look for when buying ankle braces and how to put it on later, here is everything you need to know.
Fitting
The first and foremost thing to consider when buying an ankle brace is the fitting. The only thing that makes the ankle braces effective is the fact that they remain locked tightly on to your ankles and provide maximum support.
If you do not get the right fit, your ankle brace might come of or slip down which will interfere with your game.
You need to go for the ankle brace that provides you with the best support and comfort. Never go for loose ankle braces because then they will be of no use. Your ankle brace should hold your ankle tight in its place but not too tight that it might start hurting you after some time.
Stabilization
The ankle brace you should end up with must provide you with the perfect ankle stabilization. Only then you will be able to play confidentially during your toughest gaming sessions.
Ankle stabilization also indicates to the fact that your ankle brace should heal your injury in a steady pace, especially for those players who are suffering from hard ankle injuries.
You will find a hinged brace as the best ankle brace for plantar fasciitis. These ankle braces not only provide maximum support to the player but also help in early recovery and offer maximum stabilization.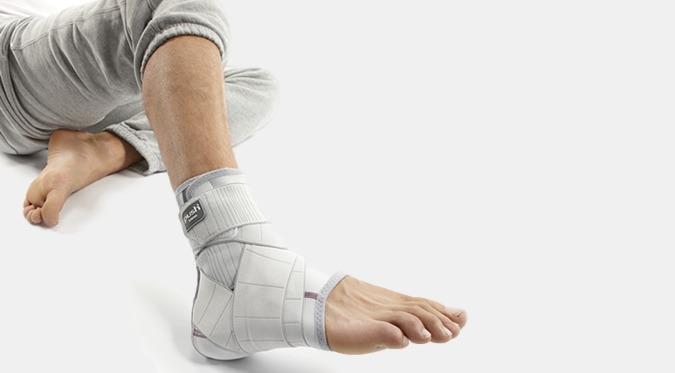 Durability
Most of the ankle braces that you will find in the market feature strong elasticity that may wear off in a few trials. So, you need to find an ankle brace that is strong enough to get through hard games and something that will last longer.
Ankle braces made up of nylon and neoprene are the best ankle braces for running and extreme sports because they are meant to last for a very long time. They can handle tough games and their elasticity doesn't wear off that easily. These are also the best ankle braces for football.
Safety
Finding the best sprained ankle brace isn't easy. You need to make sure that you choose the safest available product because they will be responsible for protecting your vital joint during a hard game.
You should always seek your physician's advice before you buy an ankle brace. If you fail to choose the right ankle brace for yourself, you will suffer way more than you were suffering before.
Let's say you are a volleyball player who is looking for the best ankle brace for volleyball. You will find hundreds of products in the market and they all will claim the same thing, being the best. But only your physician will be able to suggest the ideal one for you.
Cost
Last but not the least; the cost is another important thing to consider when buying an ankle brace.
While you may want to pretend that cost doesn't matter but it does, and it affects your choice greatly. Always decide your budget first and then look for options.
One fun tip, always compare different products that come under your price range and then choose the best ankle brace with most features.
Conclusion
So, this is all you need to look for when buying an ankle brace. Different brands have different categories. Some offer low sprain brace while some have amazing high ankle sprain braces.
It is for you to decide which product will work the best for you based on all the above mentioned aspects.